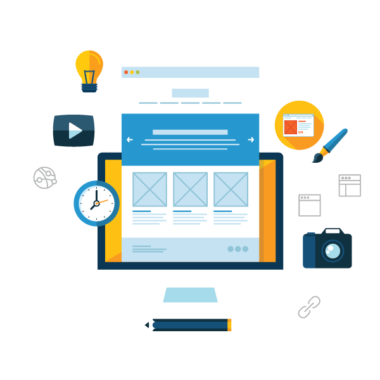 Web Design Services
A website should not just draw attention. The role of a website is to attract and engage the user, as well as communicate your brand and raise awareness about a product or service.
A good landing page design is crucial for the progress of a pay per click advertising campaign. A better landing page will consist of an excellent ad copy with an action call positioned above the fold such as contact information or a lead generation form. What you want for your landing page is to spot appropriate keywords which will eventually require you to have many other landing pages if your keywords have several variations.
Our suggestion would be that it would be good if we can create more than two landing pages for you so that we can assess them against each other to ascertain which functions better. This is referred to as A-B testing. Also, as soon as you have a great convert landing page, you can dabble with various elements on the page to check out which modification converts better such as adjusting the header , changing the background color or the home page. This is referred to as multi variant testing. You would require a tracking software that performs conversion to do this.
Designing and testing a landing page has the potential to make a vast difference in the successful implementation of a PPC campaign. In few corporations, the net returns are in PPC advertising is really less so much so that a one percent conversion difference will generate thousands of dollars excess profit.
If presently your landing page is weak, after designing a better landing page, you should generally notice a ten to fifteen percent higher conversion rate. Our aim is to enable your business to create improved marketing experiences by providing you with the necessary tools for designing high converting landing pages. Our designing team at Onserve have the skills to create appealing designs that are extremely optimized for conversions.
The SEM or SEO related to your brand are most likely to draw in a lot of traffic which needs to be managed carefully and a constructive landing page will help you with just that. Also, a good landing page is the best way to gather information from your targeted audience. Onserve can help you create constructive landing pages exhibits essential information about your product or services for the traffic that comes by way of search engine optimization or search engine marketing.
Our aim is to reduce the cost of customer acquisition. Our designing tools are so effective, simple and spontaneous to use that we can develop a landing page in just minutes. The management of landing pages is so smooth and impressive through our multiple account management and page arrangement.
Every project presents its own goals, audience, and opportunities. Our approach to great projects begins with a time-tested process that discovers and addresses the unexpected.
Tell us about your project
Let us help you get your business online and grow it with passion
Thrive online — get best unbeatable interactive experience based on the smart design and innovative technology. Ready to get started?
"We've looked at a lot of SEO solutions but these guys were always the clear favorite. They have the right strategy and they've been awesome to work with." "We have a constant flow of new leads thanks to this amazing SEO company. They gave us all the tools to convert leads into customers." Ashish Patel
CEO & Founder
"This incredible team managed to not only get us top positions on Google for all of our top keywords, but they kept us there, as well! I would highly recommend this company to anyone." Vineet Singh
Quality Realty Service